Why you should use Handmade
Commercial soaps sold in stores are usually made with chemical detergents that you can't even pronounce the words on the label.  Hardeners that are used can leave your skin dry and irritating on your skin.
We want our soap to lather, clean and moisturize your skin and most of all SMELL good !  Handmade soaps preserve the integrity of all the oils/fats/butters so that you get all the vitamins, minerals, and skin loving quality in bar created.  
I hope your enjoy using our body care products and we know your skin will feel amazingly wonderful.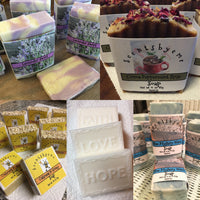 Tell us how you like these !
Just click on the REVIEW button . 
Testimonials
Love it !!! So smooth

Vanilla bean 3 butters body butter

Heidi S.
"Soothe n Relief Herbal Tea" works wonders. I was feeling very much better a few hours after sipping a cup.

Gee H.
Wonderful place for scented soaps. I really like the flax soap bag I got there.

Currently I'm sipping on tea sweeten with orange flavored honey. It's excellent!

Wanda is a delightful person. Her dedication to perfecting her craft is obvious in the warmth and enthusiasm she expresses when exhibiting her products to the customer.

I'm glad I discovered this gem of a gift shop.

C Pullen
Brown Sugar Lip Scrub...My daughter luvs it!!! She has terrible chapped lips and the skin under her nose is always chapped and peeling, she was crying she was so happy!!

Taylee Jones
6 Pack Macaroon Soap ...My Daughter LOVES the macaroons with all the different sents we got from you for Christmas 😎

Mark Schorah
Michelle B. Verified Buyer    10/28/20

Absolutely love it.

Absolutely love it.





Michelle B.
Jennifer L. Verified Buyer    11/23/20

awesome natural gift

these are wonderful gifts this time of year! I absolutely love all natural products. These are perfect for yourself or to give to someone else!




Jennifer L
Soaps for Shelters
Help us be a Blessing to a local shelter by purchasing a soap by donating it to help those in need and Lift their Spirits at the same time.
Give